Viime postauksessa sivusin japanilaisen ja länsimaisen tarinankerronnan kulttuurieroja. Alkuvuodesta sen sijaan pohdin nimenomaan japanilaisen ja eurooppalaisen sarjakuvan (amerikkalaisen poissulkien) sekä niiden kuluttajien välisiä kulttuurieroja; se saako näin tehdä on tietysti joidenkin mielestä kyseenalaista, mutta kenties olisi hyvä kuulla myös niiden eurooppalaisten sarjakuvakulttuurin kasvattien näkökulmaa asiaan? Jean-Marie Bouissou kirjoittaa näin:
I followed Pilote to the last issue and Charlie Mensuel through university, but long before then my sisters, who through school had fought with me every Wednesday for the copy of Tintin and Spirou, had stopped finding any series which paid the slightest attention to the concerns of young women. On the other side of the world, the "Year 24 Flower Group" offered to Japanese girls of the same age mangas conceived and drawn by young women for young women. These had an aesthetic of their own, an attention to issues such as rape or unwanted pregnancy, and a female perspective on love and sex. In a highly macho society, where it was hard for girls to imagine a relationship on equal terms with a boy, these artists made good use of devices such as cross-dressing heroines, on the model of the celebrated "Lady Oscar" of Riyoko Ikeda's Rose of Versailles, or relationships between teenage boys (shonen ai), which let the female reader identify either with the more effeminate or with the more virile. When their readers started working, their publishers invented "OL manga" (office lady manga). When they married they could read "ladies comics", peppered with rosy romanticism and rather crude shonen ai – a brief escape from the routine of the housewife.

Young Frenchwomen had meanwhile given up on comics. As for the boys, the highbrow culture of Pilote vanished as its readers left university. During the 1980s Pilote, Charlie Mensuel and Hara Kiri / Charlie Hebdo declined and collapsed. Henceforth the publishers concentrated one-size-fits-all series "for children of 7 to 77 years". Preeminent here were the indestructible Lucky Luke and Asterix: neither fish nor fowl, more than children's comics but not truly grown-up, peppering childlish scenarios with a lots of humorous hidden meaning for the sake of their adult audience.

Anybody who has also followed this process will understand immediately why manga was destined to become a global product: it had something to offer audiences diverse in age, sex, and taste. Neither French nor American comics could provide such variety. Where are the French cartoonists capable of reviving a famous sextagenarian doctor abandoned at the time of Pilote? One of the sisters who fought with me for Tintin as a girl is now passionate for Syuho Sato's Say Hello to Black Jack, a gritty view of Japanese hospitals as seen by a young intern.That, at the very least, is a good base to attack the global market.
Mitäpä tuohon nyt sitten enää sanoisi. "Ei millään ole mitään eroa, kaikki on vaan samaa sarjakuvaa, ei saa yrittää mitenkään erottaa tai määrittää, mitään "oikeaa mangaa" ei millään lailla mitenkään missään määrin voi ikinäkoskaan ollakaan nih!!!" kenties? Kaikki liittyy kiehtovalla tavalla kaikkeen.
Kirjoitus kannattaa lukea kuitenkin kokonaan, sillä se sisältää monia muitakin pointteja - kantavana teemanaan sen, että japanilainen kulttuuri sisältää jäykästä stereotypiastaan huolimatta vähemmän teennäistä puritanismia ja rajoittuneisuutta kuin länsimaiset yleensä.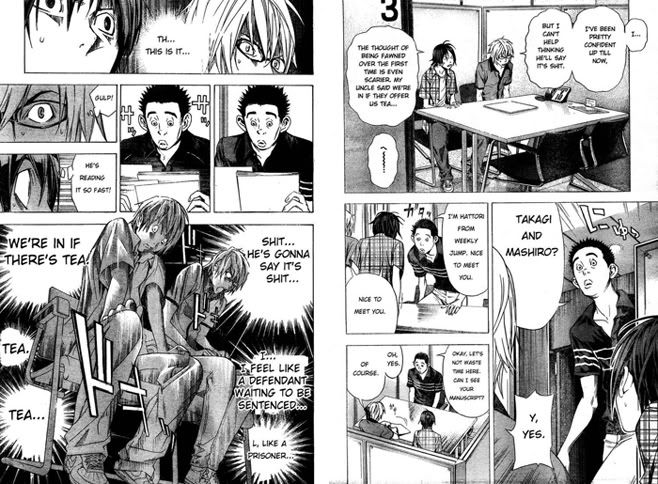 Tämän (ja valtion monopolin puutteen) vuoksi japanilainen TV-viihde on alusta alkaen saanut olla vapaampaa kuin länsimainen, ja sen (ja Comics Coden puutteen) vuoksi myös lastensarjakuvat saavat olla rehellisen vulgaareja - eikä aikuisten sarjakuvien siten tarvitse olla korostetun rajuja ja synkkiä jotta ne tajuaisi aikuisten sarjakuviksi. Puhumattakaan siitä, että jatkuva lehtiensisäinen kilpailu pakottaa mangakat tekemään töistään kohdeyleisöään kiinnostavia ja myyviä välttääkseen potkut, tai saadakseen ylipäätään töitä - ja nämä teokset myös sitten myyvät.
Systematic pre-publication in serial form and the continuing control of popularity via dokusha kado – feedback forms inserted into the weeklies, allowing readers to rank each series – obliges mangaka to "stick" in the imagination of their readers. This readership is predominantly teenage – and there is no question that teenagers of every country are much more interested in a thousand and one ways of making out and losing their virginity than in the pun-filled adventures of Asterix.
Täällä lännessäkin.