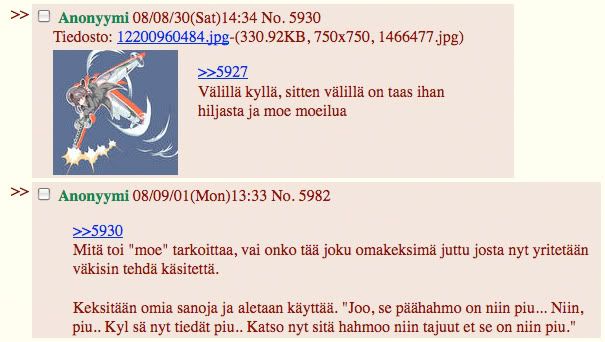 Jargon on tarpeellinen asia.
Se helpottaa kommunikaatiota poistamalla tarpeen määritellä joka keskustelun aluksi ne asiat joista puhutaan. Tästä syystä taidehistoriakin jakaa aiheensa tyylisuuntiin ja aikakausiin; ilman sitä jokainen aihetta käsittelevä kirja olisi tuplasti paksumpi, vuosilukujen ja tyylien kuvailujen virratessa kymenä. Luonnollisesti nämä kaikki termit on yleensä keksitty jälkeenpäin, kuvaamaan menneisyyttä ja helpottamaan sen jäsentelyä: hyvä esimerkki on esimerkiksi se tapa jolla amerikkalaisten sarjakuvien fanit ovat jakaneet harrastuksen kohteensa historian kulta-, hopea-, pronssi- ja nykykauteen. Samaan tapaan esimerkiksi termi tsundere on keksitty vasta vuosia ensimmäisten tsundereiden ilmaantumisen jälkeen - jotta Asuka Langleyn ja Naru Narusegawan kaltaisille hahmoille saataisiin kattotermi, ja keskusteleminen yksinkertaistuisi. (Termin lanseerasi vuonna 2001 julkaistu Kimi ga Nozomu Eien.)
Ongelma tulee kuitenkin siitä, että kielellä on taipumus muuttua. Suuremmissa sosiaalisissa rakenteissa se on kielen normaalia kehitystä ja arvolatausten vaihtelua, mutta kun kyse on jargonista joita aktiivisesti keskustelevat pienet piirit käyttävät se saattaa aiheuttaa ongelmia. Kahdella tavalla, tarkkaan ottaen.
Ensimmäinen näistä tavoista on termien korruptiosta johtuva kommunikoinnin vaikeutuminen - eri keskustelijat kun voivat tarkoittaa samalla termillä kahta eri asiaa. Tämä korruptio on peräisin ihmisten laiskuudesta. Jos ei pidä jostain sarjasta on helpompaa perustella mielipidettään jollain laajalla termillä kuin vaivautua erittelemään sarjasta itsestään niitä piirteitä joista ei siinä pidä - ja mitä laajemmiksi nämä käsitteet ihmisten suussa paisuvat sitä merkityksettömämpiä niistä tulee. Niille käy kuten termille "rasismi" on Suomessa käynyt nykyään.
Millainen on "moesarja?" Käykö sellaisen arkkityypiksi Azumanga Daioh, Hidamari Sketch, Strike Witches, ef, Clannad vai Lucky Star? Niin erilaisia sisällöiltään, ja silti nykyään ne niputetaan kaikki saman genren alle. Kaikilla tuntuu olevan moesta vahva mielipide, mutta puhuuko yksi aidasta ja toinen aidanseipäästä?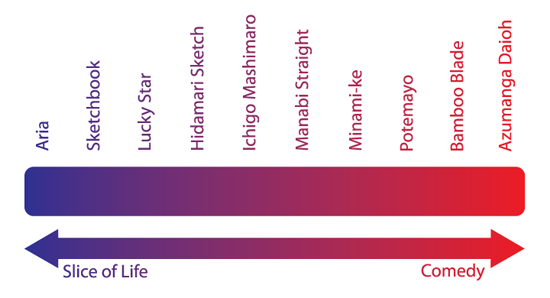 "Moesarjoilla" on olemassa muitakin ominaisuuksia kuin moe. Jos tähän kaavioon lisäisi Y-akselin, siirtäisi "komedian" ylös, lisäisi alas sen vastinpariksi "draaman" sekä oikealle slice-of-lifen vastinpariksi "juonen" saisi melko jännän nelikentän!
Alkuperäisessä merkityksessään moe ei kuvaa hahmon ominaisuuksia, vaan katsojan suhtautumista hahmoon: niitä kaikkia asioita, jotka saavat lukijan kokemaan kiintymystä siihen. Usein on sanottu, että moe on empatiaa hahmon heikkouksia kohtaan; toisin sanoen halua suojella (kontrastina seksikkyydestä syntyvälle seksuaaliselle himolle). Tämä tuntuisi järkevältä, koska moni hahmo jonka usein sanotaan olevan moe on tosiaan heikko ja avuton - esimerkiksi K-ON!:in Yui, joka sarjan ensimmäisessä kohtauksessa ei onnistu edes pysymään jaloillaan.
Mutta miten sitten esimerkiksi Sakin valtavilla mahjongskillzeillä varustetut tytöt ovat moeja? Tai Hidamari Sketchin tytöt, joiden elämä on pelkkää onnea ja auringonpaistetta? Higurashin toisiaan lahtaavat hahmot? Tai Genshikenin Madarame (niin puolileikillään kuin alla oleva kuva onkin tehty)?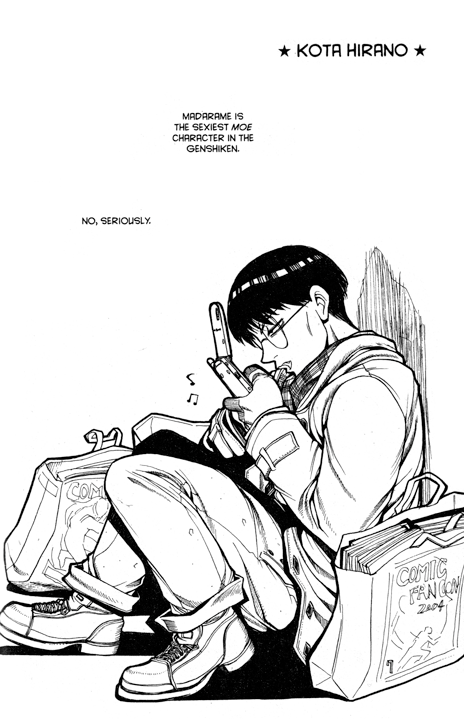 Tietty on olemassa myös termi "ero-moe", mutta jospa ei hämmenetä määritelmää tällä kertaa liikaa.
Hyvin usein moessa onkin kyse enemmänkin tsemppaamista kuin suojelunhalusta - halusta nähdä hahmon onnistuvan. Yuin tapauksessa onnistuminen on kitaransoittoa, ystävien saamisesta ja omien unelmiensa löytämistä. Hidamari Sketchissä se on onnellisten päivien jatkumista. Higurashissa kyse se on loputtoman hulluuden kierteen rikkomisesta, Madaramen tapauksessa taas kroonisesta nörttiydestä paranemisesta. (Ja kuten Afternoonissa jokin aika sitten DVD-boksin kunniaksi julkaistusta mangan 56. luvusta näkee tämä onnistui siinä. Hän jopa käyttää nykyään jotenkuten tyylikkäitä vaatteita.)
Alkuperäisen määritelmän mukaan moe on hahmosta pitämistä - mahdollisesti seksuaalisessa mielessä mutta ei välttämättä, hyvin samaan tapaan tapaan kuin oikeasta ihmisestäkin pitämisessä. Olennainen osa tätä on tunneside, lukijan tai katsojan itsensä henkilökohtainen emotionaalinen panos. Alkuperäinen moe on määritelmällisesti positiivinen asia. Toisaalta se on myös itsekäs tunne, toisin kuin rakkaus (ainakin idealisoituna). Siksi japanilaisilla otakuilla on tapana sulkea ne tiukasti omiin karsinoihinsa.
Pöljän fujoshin ensirakkaus.
Anime- ja mangateollisuuden päästyä trendeistä jyvälle alkoi kuitenkin saman tien suurimpien yhteisten nimittäjien metsästys, ja sellaisia piirteitä joita suurin osa katsojista piti moena alkoi ennen pitkää tulvia teoksiin - ja koska on helpompaa keskittyä pinnallisiin yksityiskohtiin kuin käsikirjoituksellisiin seikkoihin, koko termin merkitys alkoi muuttua. Se korruptoitui kapeammaksi kuin mitä se alun perin oli; nykyään moni tuntuu käyttävän sitä käytännössä söpön synonyyminä. Näin alun perin yksittäisen katsojan suhdetta hahmoon kuvanneesta termistä on tullut hahmon staattisia piirteitä kuvaava termi, ja on tullut mahdolliseksi sanoa "en pidä moesta" - mikä alkuperäisen merkityksen mukaan ajateltuna kuulostaisi yhtä järjettömältä kuin "en pidä asioista joista pidän"...
Tämä merkityksen muuttuminen on kuitenkin luonut kiehtovan ilmiön, jossa kaikki moeksi määriteltävät asiat voidaan luetella jompaankumpaan kahdesta olemassaolevasta luokasta. Sdshamshel nimittäin esitti tässä taannoisessa kirjoituksessaan huomion, että nykytilanteessa on olemassa kahdenlaista moea: staattista ja aktiivista.
Staattiseen moeen putoaa suurin osa siitä mitä nykyään sanotaan moeksi - hahmon hahmosuunnittelu ja muu ulkomuoto, persoonallisuus, tavat, ominaispiirteet, ääni. Aktiivista moea puolestaan on suurin osa siitä mitä moella tarkoitetaan vanhan määritelmän mukaan - kaikki se mitä hahmolle tapahtuu ja mikä saa katsojan tuntemaan kiintymystä hahmoon; toisin sanoen hahmo kontekstissaan. Käytännössä kaikilla kunnolla tehdyillä moehahmoilla on molempia (lukuun ottamatta tietty erinäisiä poikkeuksia joilla ei ole aktiivista moea lainkaan, kuten Vocaloid-hahmot), vaikka suurin osa onkin painottunut enemmän jommankumman puolelle - esimerkiksi Sdshamshelin itsensä kuumottelema Chika Ogiue, jonka moe on lähes kokonaan aktiivista.
Yllä kuvattu Kanonin Ayu on hahmo jolla on molempia moetyyppejä rekkalasteittain. Tämän staattista moea on isosilmäisen hahmodesignin lisäksi taiyakinhimo, retardi käytös, kokkaustaitojen puute, poikatyttömäinen personallisuus ja uguun hokeminen; aktiivista moea puolestaan tämän vuorovaikutus sarjan päähenkilö Yuuichin kanssa, se miten he sarjan edetessä lähentyvät ystävinä ja se miten saamme selville hänen menneisyytensä ja todellisen identiteettinsä. (Korostetusti miten - jos nämä seikat olisivat vain jotain mitä tietäisimme jo tarinan alkaessa, ne eivät olisi aktiivista vaan staattista moea.)
Staattista moea on siis hahmo itsessään, aktiivista moea hahmo liikkeessä. Karkeasti ottaen voisi siis sanoa, että pelatessasi Princess Makeria se että ottotyttäresi on söpö loli on staattista moea; se että hänestä kasvaa reipas ja kunnollinen tyttö taas on aktiivista moea.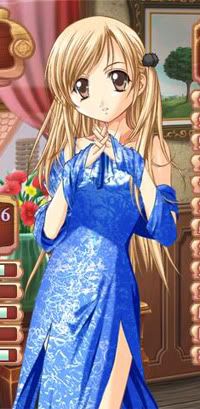 Näin ollen tuntuisi yksinkertaiselta tulla siihen lopputulokseen, että ne jotka nykyään sanovat "vihaavansa moea" tarkoittavat vain staattista puolta moesta, eikös vain? Pinnallisia yksityiskohtia siis, välittämättä hahmon käsikirjoituksellisista puolista. Tähän tapaan:
Yui is absolutely irritating. Everything about her is equally rage-inducing. Let's start with her voice. Granted, this voice is perfect for the character-- I do applaud her seiyuu for that. She's perfect for the dumb-as-a-doorknob guitar player, and that's good, and good on her. But it was like nails on a fucking chalkboard, listening to Yui Hirasawa speak. And the flashback to her childhood, you all know the one, the castanets, the "untan" scene-- this is one of, if not the most irritating thing to come out of anime, ever. How Yui acts is your general stupid-girl bullshit. She's clumsy, she's stupid. That's honestly not too much of the hate for me. One big thing that always irks me about her is that she looks like a damn rodent. Seriously, look at her. She's a chipmunk.
Tämä ei kuitenkaan ole aina totta (vaikka usein onkin), sillä silloin tällöin jonkun kuulee myös sanovan ettei pitänyt tavasta jolla sarja yritti nyhtää katsojastaan tunnereaktioita; esimerkiksi melodraamaa tihkuva Clannad tuntuu herättävän usein tällaisia reaktioita. Tällöin voidaan sanoa, että katsojan ja sarjan tekijöiden käsitys moesta ei kohdannut edes aktiivisen moen puolella. (Tämäkään ei tietenkään tarkoita sitä että kyseinen henkilö vihaisi moea perinteisen määritelmän mukaan; moni moenvihaajaksi julistautunut on esimerkiksi joutunut tunnustamaan pitävänsä Kaijia moena...)
Perinteisen ja modernin moen määritelmän sekä staattisen ja aktiivisen moen välisten erojen tiedostaminen on tärkeää, koska ne saattavat ratkaista monta argumenttia joissa kiistelijät yksinkertaisesti tarkoittavat samalla termillä kahta eri asiaa. Jos esimerkiksi tukehduit aiemmin kahviisi yrittäessäsi ymmärtää miten kukaan voi pitää Madaramea moena muista, että Hirano varmaan ajatteli asiaa perinteisen määritelmän mukaan!
Uguu... Ei kun zawa zawa. Tai jotain.
Postauksen toinen puolisko seuraa muutaman päivän päästä. Siinä kerron siitä toisesta tavasta, jolla kielen dynaamisuus voi aiheuttaa ongelmia.